Self-employment
How design thinking can help freelancers and the self employed
Kate Bailey
Freelance Editor
Jul 22, 2020
As we move through the post-Corona era whereby our workplaces are forever changed, we can also start to see the emergence of people employing vastly different ways of thinking about their own businesses and how to grow and change. As usual, these new ideas come with some that are better than others.
We can even find ourselves needing to change the practical parts of our business, and not just the holistic. Today however is about the holistic, and design thinking is gaining increasing relevance, so let's take a look at how it could help you as a freelancer or self-employed person. Firstly, let's define what design thinking is.
Design thinking is a process and approach to projects that help you create meaningful solutions in your workplace, school or in your community - well, kind of anywhere. Design thinking establishes and contextualises development processes. It is about identifying and finding solutions to real problems, doing research, analysis, idea work, experiments and sometimes even the creation of physical prototypes of things.
With design thinking, the classic design process is applied in new areas. The process generally moves from user-centered, investigative work, to creative idea work and the creation of coarse, simple prototypes that can be tested. There are many variants and descriptions of this design process, with more or fewer steps, and slightly different naming of them. But in general, the basics are the same for the different variants.
An example of a 5 step design thinking process
The process of design thinking is basically broken down into individual steps. Depending on the model, slightly different phases are shown. Overall, however, most models are very similar as mentioned.
For our example, we will use a five-stage design thinking model. For the sake of clarity, the design thinking process is shown as a linear process. However, this is not mandatory, it may well be that individual steps are sometimes brought forward. The feedback steps between the individual phases are important. This means that what has been worked out is constantly checked, rethought and necessarily adapted. Ideally, the design thinking process is never completed but takes place continuously.
Phase 1: Understand
The first phase serves to approach the problem that is to be solved. It's about getting as much and relevant information as possible. The methods used should already focus on customer/clients needs, which can then be used to derive innovation opportunities or strategic measures. Target group-specific personas and customer journey mappings are suitable methods for gaining relevant customer information.
Personas can be formed from empirical data and are used when it comes to characterizing individual customer segments. They give customers a face and help to understand who the customers are, what they need, what they want and what motivates them. Customer journey mappings offer the added value of a clear representation of customer contact with your own products or services.
Places, where there are problems or potential for improvement, can be shown so well. It can also make sense to benchmark your own performance with that of the competition, as you can easily identify the strengths and weaknesses of your own products and services and draw appropriate conclusions from them.
Phase 2: Ideate
Now the customer, company and technology-specific knowledge gained from phase 1 are transferred to relevant ideas. Out-of-the-box thinking is important to generate creative and unconventional ideas that are worth pursuing. But good ideas don't come out of nowhere. They are the result of systematic cooperation. Interdisciplinary teams are ideal for gaining the most diverse ideas. Classic methods that can be used here are brainstorming variants, laddering and elevator pitches - you know, all that cool business stuff.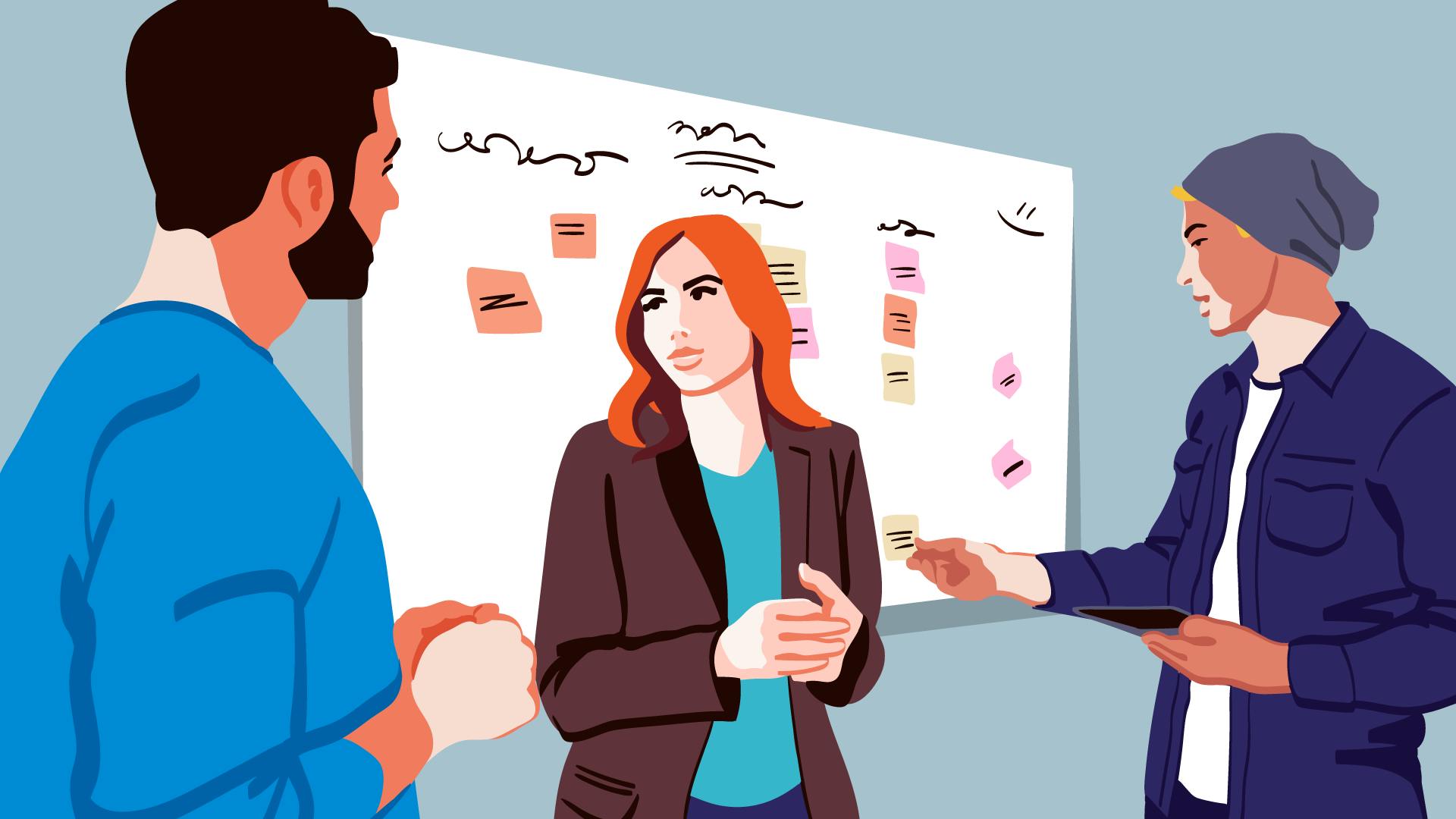 Phase 3: Create
In the creation phase, existing ideas are further refined and defined. It is important to make the often rough designs more tangible and concrete. It is completely normal that a few ideas are already being rejected here. The phase is used specifically to turn ideas into verifiable concepts. User experience (UX) design methods, such as wireframing or prototyping, incorporate information gained on topics such as customer needs, technology and strategy into the concepts.
Phase 4: Develop
The concepts are now developing step by step into products that are ready for market entry. Design Thinking wants to support the development process and makes sure that the set design standards are constantly implemented. By using design tools, your own brand or working style is translated into all of your services and products. As a result, product quality can increase and the development process accelerated.
Phase 5: Roll-out
The final phase of the design thinking process is about an effective marketing strategy to market the product as best as possible. The storytelling should emphasize the USP (unique selling point) of the product or service and at the same time address customers emotionally. The touchpoints of the customer journey must be taken into account in order to optimally reach customers. The goal is a uniform communication across all channels so that the customer gets a "round picture". Then it is important to track your own campaign, analyze customer reactions and continuously optimize your own communication.
What can design thinking do for your business?
Design thinking can help when it comes to finding a creative solution to a task or problem. Design Thinking has its origins in product launches. In addition to product innovations, the goal is often to rethink holistic processes in the company, to make them more efficient and to align them with the customer.
This is especially important as most freelancers and self-employed people sell services, and the holistic alignment of this is evermore crucial. The primary goal of design thinking is a holistic process, namely the change of the corporate culture. It is becoming more and more common to look back and see companies who took this step and mastered it.
Bigger companies are a great source of measurement as we look to those that strategically realigned the group for digital transformation and made it fit for the future. Considering the numbers of large multinationals one can see this as a mammoth task. But it just goes to show the power of such thinking.
A new way of working, thinking and living has been implemented in a large-scale design thinking process - meaning it is also possible in your smaller-scale operation. The processes within larger companies are continuously optimized with a view to creating benefits for the customer.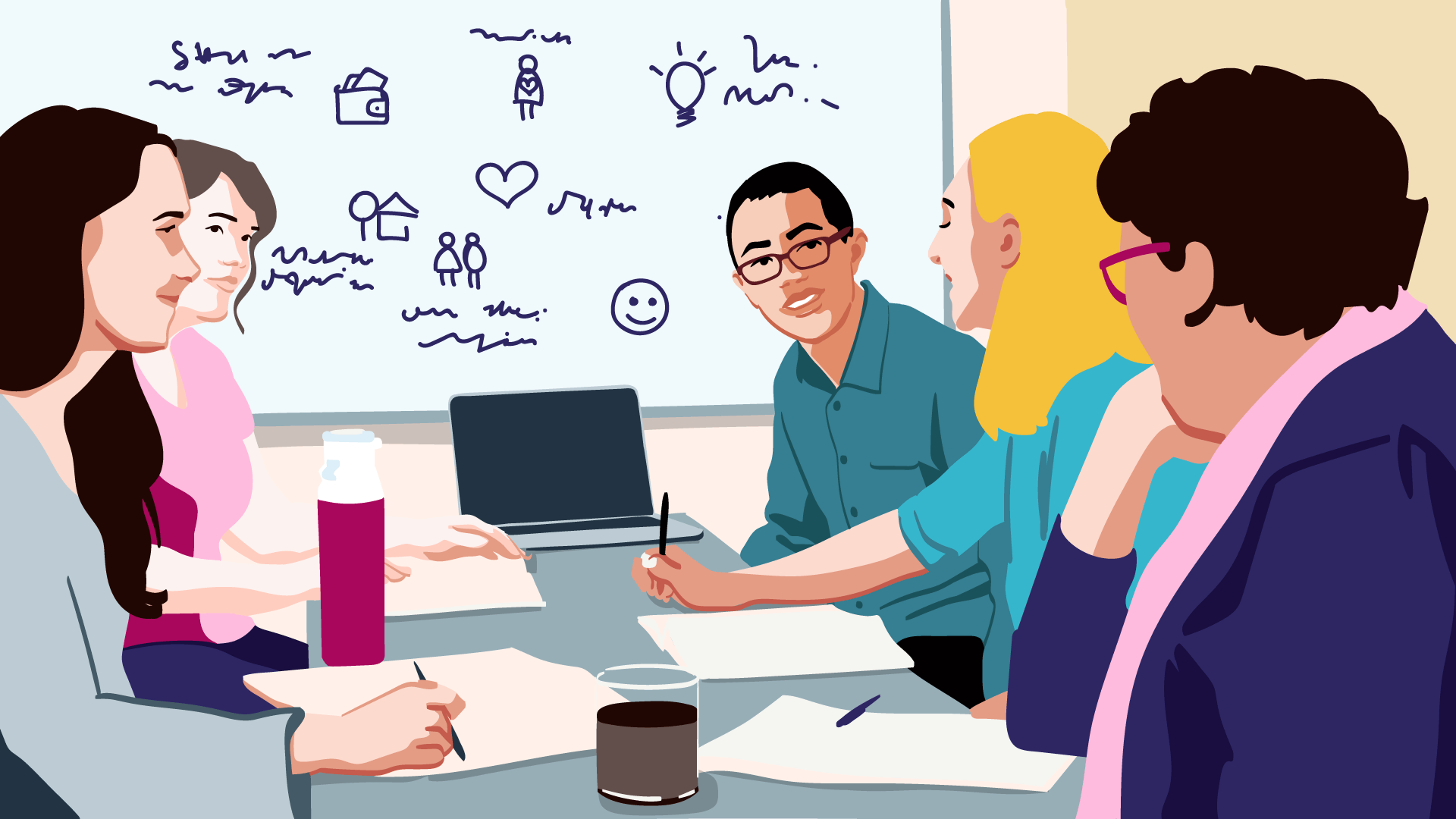 Use Design Thinking to Market
Marketing is another popular area of ​​application in which design thinking methods are used and marketing is an area we at Kontist encourage everyone to approach. Whenever conventional conventions need to be broken and out-of-the-box thinking is required, it makes sense to choose the design thinking approach.
Due to the convergence of various industries, triggered by the digital transformation, more and more business areas are merging. It is by no means easy to define a unique selling point. In order to remain competitive or open up new business areas, Design Thinking can support you so that you always orientate yourself towards problem solving or innovation approaches. Innovation and design thinking go hand in hand.
Due to many factors, but above all due to digitization, customer orientation has become increasingly important. Thinking about your client as a first priority is often overlooked by the freelance or self-employed because we often do not see those we work for as customers. Weird, right? Because we have products and we have customers - even if it is a service.
At its core, design thinking is a strategic process that focuses on the customer and strives for solutions and innovations. The process is first about understanding the problem and, above all, the customer's perspective. It is important to collect as much relevant information as possible so that appropriate ideas can be derived from the data obtained in the second step.
In the create phase, the ideas that have arisen are now specified. It will turn out that some ideas are rejected because they are not suitable for further pursuit. Once the relevant ideas have emerged and have been refined accordingly, concepts can now be developed for implementation in real products or services. In this phase, design thinking runs parallel to the development process and intervenes to support it. The final step is the so-called roll-out. This involves working on a marketing strategy for marketing the product or service.