Kontist
The account switching service for your business account by Kontist
Last updated on Apr 1, 2020
Janna Kersting
Chief Editor
Feb 12, 2020
If you have a Kontist account, then you already know about its benefits such as the digital sub-accounts for your tax reserves and the optimized mobile design. If you don't have a Kontist account yet, check https://kontist.com/product/bank-account and have a look at our great features.
And here's another perk: With our account switching service you can transfer your whole account including all your arranged payments. This doesn't require any paperwork, takes less than 10 minutes and is free of charge.
Kontist covers all the cost for the account switch. We collaborate with finleap connect to provide an easy and comfortable service for you.
How the account switching service works
finleap connect supplies the technical solution. The whole process is made through one platform and is completely digital – no waiting queues, no signature required. 
With just a few clicks you can move everything important from your old account to your new Kontist account. Every recipient of your payments will be directly informed about your switch.
This is our service for you:
We inform all your customers and recipients about your new account
We track all your money transfer orders
We can close your old account
Once the account switch is done, you probably won't need your old account anymore. If you want to avoid any further costs associated with an inactive account, we can also close your old account for you.
Learn more about the account switching service by finleap connect here: https://connect.finleap.com/switchkit/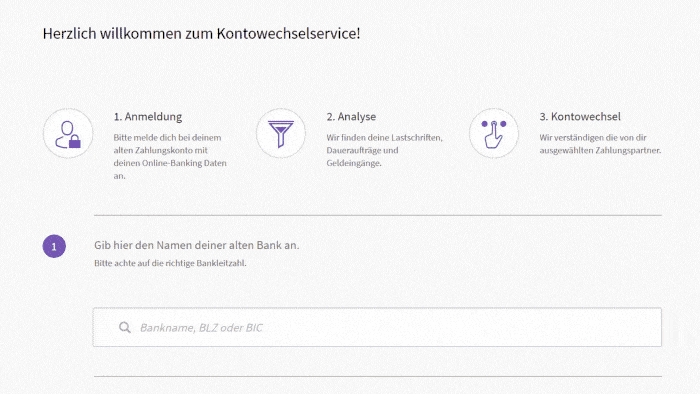 How do I benefit from the account switching service?
With our new account switching service you can make the most out of your Kontist account. Make this mobile and smart account your main business account for a better overview of your finances and transactions. Manage your payments and cash flows hassle-free and merge all your account activities to one place: your Kontist account.
Digital sub-accounts allow you to make better calculations with your income. It also makes it easier for you to manage your tax returns. 
What to do for a successful account switch
To get started you need:
your old bank account's online credentials and
your Kontist IBAN at hand (If you don't have an account with us yet, just click here. It just takes 10 minutes until you have your German IBAN). 
How it works:
Go to our account switching page: https://kontist.kontenwechsel.de/
Enter your old bank account. After that, you will be asked to enter personal details, as well as your Kontist account IBAN.
Move your payments:
Moving direct debits
Choose from a list of debits what to move to your Kontist account, and what to keep in your old account.
Moving standing orders 
At the moment, unfortunately, you will need to cancel your standing orders on your old account and set up new ones on Kontist. But don't worry – finleap Connect provides you with an overview to make sure you don't miss out on anything.
Done! After you complete your account switch it can take 5 to 7 business days for Kontist to register all your payments.
So what are you waiting for? Let's start and make the most of your bank account! Save money on banking fees and benefit from Kontist's modern digital business account.