Entrepreneurs and the self-employed frequently find themselves at an impasse when it comes to running their business, and that impasse is this question: can I do this thing I really MUST do on my own, or should I get a professional to help me out? Insurance is certainly bringing every freelancer to this impasse. Why? Well, certain insurances are compulsory so there is actually a great deal of value in a professionals opinion. Basically, you are paying for their incredibly specific knowledge of the profession. Well, this, but also you could find yourself paying for peace of mind. Because of course there are likely enough stressors with your job and profession that having someone accountable and focused to sort through your German bureaucracy might just be what the Business Doctor ordered! Brokers in other countries might have bad reputations but things are a little different here in Germany, so let's explore the pros and cons of an insurance broker for the self-employed!
Of course, you might be all determined and ready to take care of every aspect of your business yourself and it is important to look at many factors in the context of your business. Things that could be considered here include: am I planning to grow and engage a lot? Will this business really only require my attention only? What other administrations demands am I taking on for the business as well? Some freelancers and self-employed folk can, however, tend to give it up and engage an insurance broker for the self-employed, to keep effort as low as possible and to have sound advice. Depending on what you prefer, we will give you some valuable tips on the way to the right insurance. First of all, it is important to find out which insurance you need at all. And above all, it depends on the industry in which you are active. For example, if you have your own business,, you need to know how to effectively insure against a number of threats to your business and sustainability, and in other professions these risks could be quite small by the end - if you were working as a freelance graphic designer, for example. Should you decide on a self-employed insurance broker, you should definitely keep reading.
Self Employed insurance Brokers: For & Against
If you are unsure about whether you would rather do your insurance alone or with the help of a self-employed insurance broker, you should first ask yourself the following questions:
Do I have the necessary know-how in insurance matters or do I know which insurance policies I should definitely take out, which ones are less important and which I can completely dispense with?
Do I know how to plan and set the budget to spend or how to carry out an individual needs analysis?
Do I even have the time to take care of it myself?
Do I have knowledge of the insurance market or the various providers and can choose the best conditions for me and also complete?
If you can answer all questions with yes, you are certainly (and incredibly, for a German migrant!) qualified enough and can handle this insurance gambit on your own. If not, then you should definitely seek expert advice. There is, for example, not only the property insurance or legal expenses and liability insurance (there is a wealth of information on the Kontist blog about liability and legal expenses insurance for the self-employed - which you also need to read - but not insignificant for you as a self-employed is also the question of the right health insurance) and actually this is one of the more common mistakes. In 2018, of course, we have a transition based society with remote jobs and the option to move between countries and systems - but not all systems are the same and it is worth stressing again - do you really have a full understanding of what is required of you insurance wise here in Germany?
Different options on the way to the right insurance
If you Google with enquiries for insurance, you will immediately see an endless list of self-employment insurance brokers. Like all things on the first page of Google, don't just use the first page of Google! As with any other offer, it's not easy to find the right person to talk to about your personal concerns, who also acts independently. If you feel pressured during any time you make an enquiry, be aware this could be a good sense of intuition at play: many brokers are chasing commissions and might not be making the advice that is right for you but rather the advice that is right for them. That said, not everyone and everything are sharks, not to vilify sharks, so let's get a good overview of what you'll be looking at. Stay ahead of the game for a moment:
Digital Insurance Brokers:
Termed digital insurance brokers for self-employed and entrepreneurs such as www.finanzchef24.de there are many similar companies in this department. Nearly always there is a comprehensive overview of all current and necessary insurance that exists in the context of self-employment. A search box will allow you to enter your freelance activity and you will be shown the insurance policies recommended for your area. This is actually a really handy tool, as we have discussed before it can be a little unclear exactly what is needed in terms of insurance and profession. Likely, at this point, you can start to reveal a number of quotes. In addition, you can also inform yourself personally at the digital insurance brokers via a hotline but how good or well-founded these consultations are cannot be proven at this point. Basically, if you have previous knowledge and know exactly what you need, these digital providers are a quick, convenient and easy way to your necessary insurance. There is also the opportunity to use digital financial planners who look at your life situation and determine the need for insurance.
###Common Insurance Companies Well, any Star Wars fans might be hearing the tune of the Imperial March in their head right now. It is true insurance companies rarely have a good reputation. That said, there are certain protections when it comes to signing up with one of their companies. It could be a really safe move in that sense. Also, perhaps from your home country or for personal insurance you are already using a company that you like. In the event this is the case, it is definitely worth asking because you may then get more favorable conditions if you take out further insurance. And if you do not get offered this, take your business elsewhere! An important note regarding this: if you directly contact an insurance company, you will be dealing with an insurance agent who is employed by this insurer or, as a commercial agent, normally concludes contracts only for these insurance companies (single agent representative). He is not allowed to offer or complete other insurance companies.
This advantage is obvious: The representative knows their company products optimally and can advise you perfectly. The disadvantage of this is that they can only offer you this product which means you do not get much choice or comparison options. In addition, the consultant gets a commission and is dependent on the sale of his products, so he will, of course, highlight the positive aspects of a policy. But, there is nothing stopping you from calling multiple companies to get the same high level of service from an agent - and then take the insurance that suits you perfectly!
What else should you be aware of?
There are also the so-called multiple agents, who work like the sole agents, but have several insurers in their portfolio. That's a broker, you say! Well, no. In contrast to an insurance broker a multiple agent usually has to adhere to the strict sales specifications for the products of its insurers. The advantage for you compared to a single agent representative is that you get a much broader selection - but there is a disadvantage here as well: The multiple agent represents the sales interests of the companies he works for. You may end up with the best rate he can offer you from his portfolio, but may not be the most optimal product currently available on the market. Be sure to research the reputation and client experiences of Multiple Agents - as you would, even your favourite brunch location!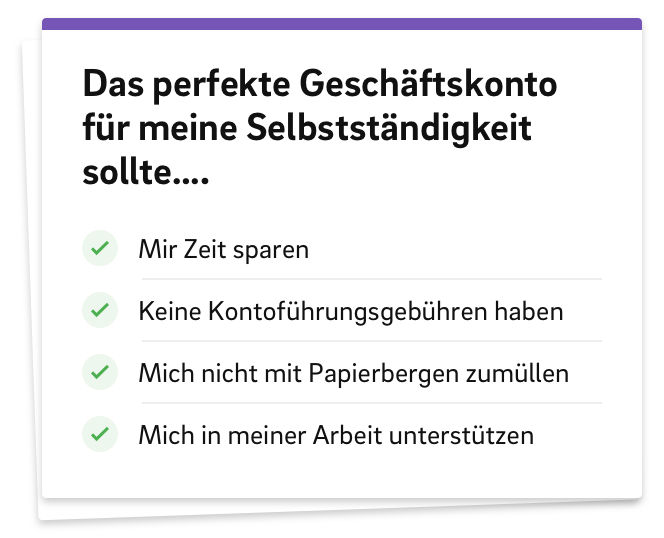 Kontist entwickelt für deine Selbstständigkeit genau so ein Geschäftskonto.
Erfahre jetzt mehr
Comparison portals
As if we do not all want a Skyscanner style app for every decision we have to make in life. In addition to the digital insurance brokers, which are specifically aimed at insurance for self-employed and entrepreneurs, there are also various comparison portals such as www.check24. It's a straightforward concept - key in what you are after and sent back will be a rough overview of the different insurance policies. These comparison portals are not specialized in insurance for the self-employed but offer a huge range. So, for example, here you can also compare gas and electricity tariffs or mobile tariffs. In the case you do not know exactly what your insurance needs are and what is really important then other tools are more appropriate. However, you can get at least a rough overview of types of insurance and prices in comparison here which would be handy in the case of researching on your own terms.
Independent insurance brokers
Professional and knowledgeable help in selecting the right insurance companies will definitely give you independent insurance brokers who work in your interests and tailor them to your specific needs, looking for the right insurances for you in the insurance market. A broker receives a commission from the insurance company for his services. You do not have to pay anything unless you have selected one of the brokers who work on a fee basis. They are paid according to their effort which is generally on an hourly basis. So, how do you find the right broker for your individual needs? There's so many considerations and of course, people who want your business, well, they might be willing to sell you a deal you did not ask for. Here are a few pointers that you can use to orient yourself:
If possible go via the route of having someone recommend you. Ask in your network, your friends and family. If someone in your working or personal life has ever had a good experience with a broker, this is certainly a good reference.
Be sure to find an independent insurance broker for the self-employed. Only then can you count on him to pick the product that's best for you and not upsell you a particular one because he gets commissions from that company. Unless you know exactly which company you want to sign up for - which could be a strange circumstance regardless.
There are also online portals for this section that will help you find insurance agents in your area. The persons listed there are indeed equipped with all sorts of reviews from customers, but the authenticity can - as with the usual reviews (of hotels, brunch, etc.) also - can only be speculated.
You can also find out about so-called regional brokerage registers or about the Chamber of Commerce. This is better if you are having issues finding one through other methods but it is also worth considering the value of a broker listed on such a website.
Things to know about specialised insurance brokers
An insurance broker does not have a fixed contract with one or more insurance companies and consequently is not bound to them or does not have to fulfil any requirements. You have to hire an insurance broker so that he can get started with this specific work for you. He is committed to openness and transparency towards you. These are his clear obligation. As an example, he has to tell you why he did not include this or that company in an individual offer. If you are uncertain or in doubt, always ask. In this circumstance, you have very explicit rights as the customer. When it comes to commissions, be duly attentive. In the case of expensive long-term insurance contracts, for example, these are particularly high for an insurance broker. A big incentive for an insurance broker - not you, so be mindful here.
Good to know, how do I manage it? You should pay attention to this:
Always insist on a detailed consultation, in which it is taken seriously to explain the pros and cons of a particular policy and in any case, how high the connection and distribution costs of each insurer, because these are costs that you pay for your contributions. If you hire an insurance broker, you make a brokerage contract with him, either in writing or verbally and these factors will play into how much money ultimately leaves your wallet! If only there was insurance broker insurance… that said, a majority of good, trustworthy folk who do want the very best for you. It just important, like with all things in business, to pay attention at these crucial points. Some insurance policies are essential for the self-employed, but you should not overdo it and been ladening yourself with heavy or high fixed costs as you establish your business here in Germany. You can not insure against all eventualities, and if you try, it gets extremely expensive.
So, stick with the advice of this article and the proven ways to get results to protect against the unexpected: think about which cases for you and your self-employment could be a threat to your existence or which high follow-up costs might be due to you. Then, rely on this Kontist article to help you from there…