Banking & Tax Service for the Self-Employed
An advanced business bank account with automated bookkeeping in real-time, and a seamlessly integrated tax service.
Join tens of thousands of happy customers
Tens of thousands of freelancers and self-employed people already trust Kontist.
Taxes, bookkeeping and banking under one roof
Kontist Tax Service organizes all your tax topics and your financial bookkeeping. Completely.
We take care of your advance VAT payments, P&L, adjustment of advance payments based on your current income, tax declarations and much more. Besides, our proficient and experienced tax advisors from Kontist Steuerberatungsgesellschaft mbH advise you in all tax-related questions. Finally focus on your business, not on your taxes.
The bank account that helps you best during Corona
9 euros per month, 9 minutes is all it takes to open the account from home
Separates business from personal finances to help qualify for financial relief
Automated liquidity analysis to better manage the crisis
Extra crisis support including expert webinars by the Kontist Stiftung
Contactless card payments with your free Visa Card
For an extra fee: application for Corona Wirtschaftshilfe or Überbrückungshilfe by tax advisors from the Kontist Steuerberatung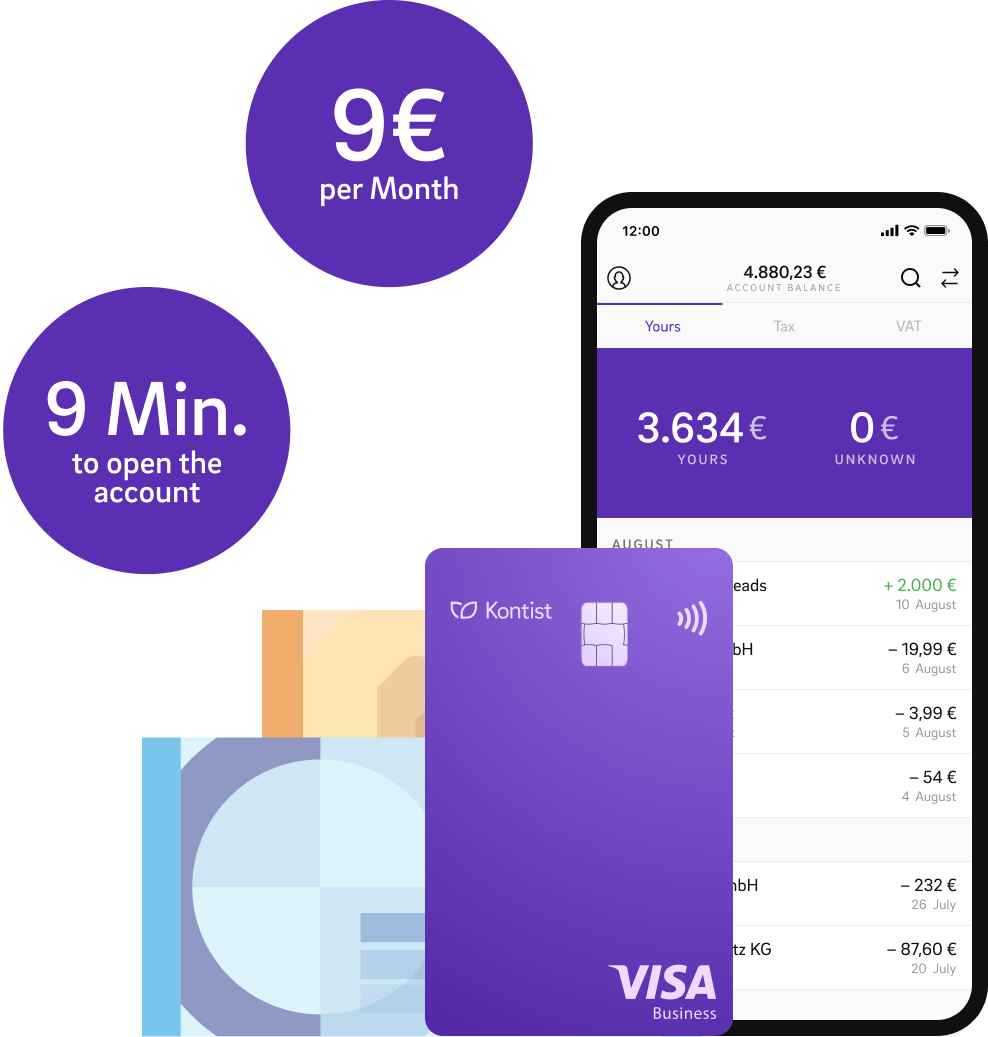 Real-Time Tax Forecasting
Keep track of what you owe, always know your true disposable income — and never worry about tax traps again. Kontist automatically calculates income tax and VAT on your transactions and sets aside reserves into virtual sub-accounts.
Accounting Synchronization
Connect Kontist and your accounting tool to automatically synchronize incomes and expenses. Scan receipts right after a card purchase to ease your bookkeeping. You will save time and energy every month.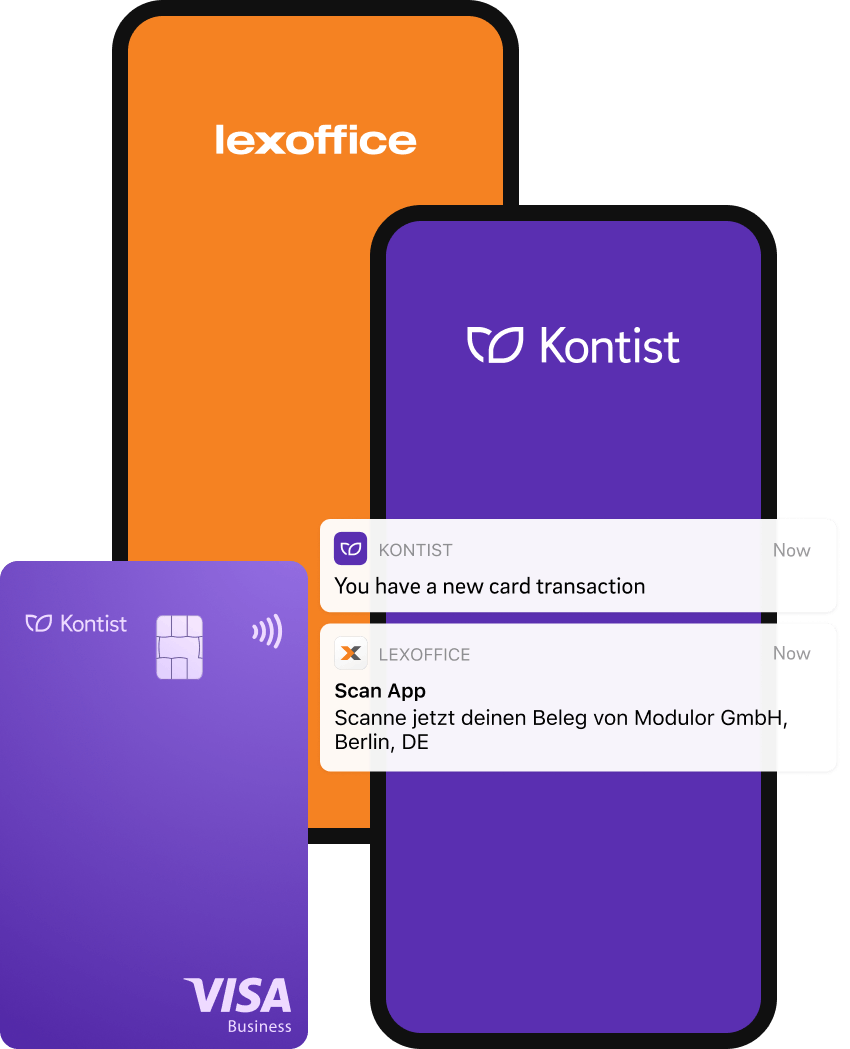 Track expenses with your Visa Business Debit Card
Control your expenses with your Visa Business Debit Card. Every transaction is confirmed via push notification. Through machine learning, all your transactions are now categorized automatically to save you time. The system is constantly learning from your decisions, getting better every time.
A German bank account & IBAN with no paperwork
No paperwork, no self-disclosure, no hassle. Kontist offers completely paperless account opening in only 9 minutes. Your business bank account comes with a German IBAN and the €100,000 deposit protection fund that goes with it. Your money is in good hands.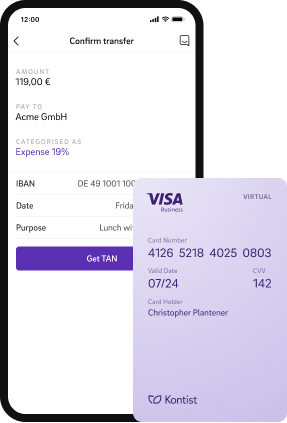 Your finances at a glance
Kontist provides real-time updates on your balance and transactions. Kontist also calculates your taxes and saves money for it on virtual sub-accounts. 100% digital and 24/7 accessible on Android, Apple & in your web browser.
Your true net income after tax
Kontist shows you clearly how much disposable funds you really have.
Incoming and outgoing payments
Get an overview of all transactions and save time through our innovative automated categorization, still leaving all decision-making up to you.
Your tax reserves
Kontist calculates your income tax and VAT and saves up for them automatically.
Security at Kontist
Kontist is built on the safest foundations, so you don't need to worry about your finances, ever.
Biometric Login
Log in with your fingerprint or Face ID to make using Kontist not just safer but convenient, too.
Multi-Factor-Authentication
3D Secure, SMS TANs and more let you stay in total control of your SSL-encrypted account.
100.000 € Deposit Protection
Your bank account is held by solarisBank, a fully licensed German bank with all the guarantees that go with it.
World Class Support
Our team is there for you via chat, mail, and phone whenever you have questions.