Banking
Visa & Kontist: a new partnership for freelancers and self employed
Last updated on Jul 26, 2022
Kate Bailey
Freelance Editor
Oct 29, 2020
One of the most revolutionary inventions from the economic world is of course the credit card. In fact what began as a credit card has morphed into a variety of different formats and platforms for, quite simply, spending money. The concept has some cool and surprising origins and now has launched prep-paid, debit, and charge card concepts. Freelancers love a good start-up story, right? While this is everyday stuff for freelancers and self-employed people, we thought that in light of our new partnership with Visa we would take a look back on this story.
The term credit card was first mentioned in 1888 in the science fiction novel A Review from 2000 to 1887 by Edward Bellamy. The credit card idea originally came from the US (no surprise!) where credit cards have been around since 1894. The first was given to good guests by hotels. In the 1920s, oil companies and department store companies followed, other industries such as restaurant chains and airlines did not begin until after 1945.
These customer credit cards - today special credit cards (Proprietary Credit Cards) - enable credit purchases, performance now/ payment later, exclusively with the company that issued them. They should facilitate payment and consolidate brand or company loyalty.
Real credit cards - general-purpose credit cards - came a little later, again in the United States. These are issued to consumers with the appropriate creditworthiness and can not only be used for payment by one company, but also by everyone who has concluded an acceptance contract for the respective credit card. The first such universal credit card was that of the Diners Club, which was founded as a club in February 1950.
It should - as the name suggests - initially only from the club members - friends and acquaintances of the two founders Frank McNamara and Ralph Schneider  - in about two dozen select New York restaurants to be used for dining on credit. But soon the narrow target group definition as well as branch and country boundaries were overcome. The next universal credit card in August 1951 was that of the Franklin National Bank at Rockville Center on Long Island, New York State. The primary aim here was to accelerate the consumer credit business and make it easier to administer.
The Visa credit card has its origins in BankAmericard, which was first issued by Bank of America in 1958. From 1966 on, this gave license agreements to other banks in the USA and in other countries. In the same year, Barclays became the first European bank to issue a credit card with the Barclaycard. In the same year, payment by Barclaycard was set up at around 30,000 contact points.
In 1970 the Visa credit card became independent nationally and in 1974 internationally under the name Ibanco, with all member banks represented. In 1977 Ibanco adopted the Visa name for all cards and activities.
Both Mastercard International and Visa International are no longer purely bank credit card organizations, but are also active in debit cards (Maestro/ MasterMoney/ MasterCard Electronic or Interlink/ VisaCheck/Visa Electron/ Plus/ V PAY) and ATMs (Cirrus/ Plus).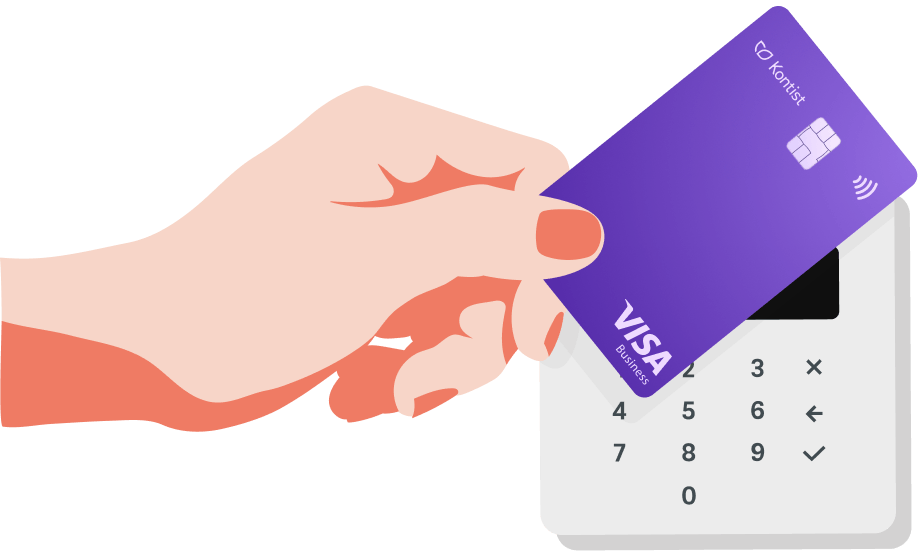 In 1970, the National Bank Americard Inc. was founded with 243 banks as founding members and renamed Visa in 1976. The colors blue and gold used in the Visa logo are intended to symbolize the blue sky and gold-colored hills of the US state of California, where the Bank of America was founded. From 1981 to 1987 Visa cards were only issued by Bank of America in the Federal Republic of Germany.
In April 1987, Santander Direkt Bank AG took over Visa membership from Bank of America. In 1988, Citibank Privatkunden AG and the followed Noris Consumer Bank GmbH. In 1992 SGZ Bank AG and Postbank became members of Visa and in 1995 the German Savings Banks and Giro Association (DSGV) followed. In 2006, Visa had a 44 percent share of the credit card market and 48 percent of debit cards in the United States.
A study by the financial news agency Bloomberg, the market share in 2010 was 65 percent worldwide. Together with Europay International (formerly Eurocard ) and Mastercard International, Visa is one of the founders of the EMV specification for credit cards with a chip. 
In parallel with the increasing number of cards and contract partners as well as increasing transaction and turnover figures, the processing of the credit card business was gradually automated. At the contractual partners, this was done by installing credit card-accepting POS terminals and for in-house operations by using the most modern hardware and software.
Both the POS terminals and the internal data processing systems have not only contributed to more efficient processing of the transactions but also raised the level of security, which is of particular importance in an international retail payment system. The next step here will be to equip the credit cards with a chip-based on EMV specifications. Combined with EMV-capable POS terminals, forging credit cards should then no longer be possible. This can then be the basis for credit cards to switch from transactions based on a signature to transactions based on PIN.
So it is, of course, one of the reasons why we are talking about this - that Kontist is now offering all Kontist account holders a new bank card that can be used optimally internationally. The Kontist Visa Business Card brings Germany into 2020 (no faxes needed!). Travelling abroad is often fraught with difficulties for people from Germany. Paying abroad is often a problem.
Be it because the machines do not accept the card or because the reader on site cannot read the card. Ausländers rejoice!! You can rejoin the Millenia. The new Visa Business Debit Card, which is now replacing the old Mastercard at Kontist, is your reliable partner for business trips. The new card will be issued by our partner, Solaris. Your account with Kontist and the card is now from a single source, which significantly improves the service.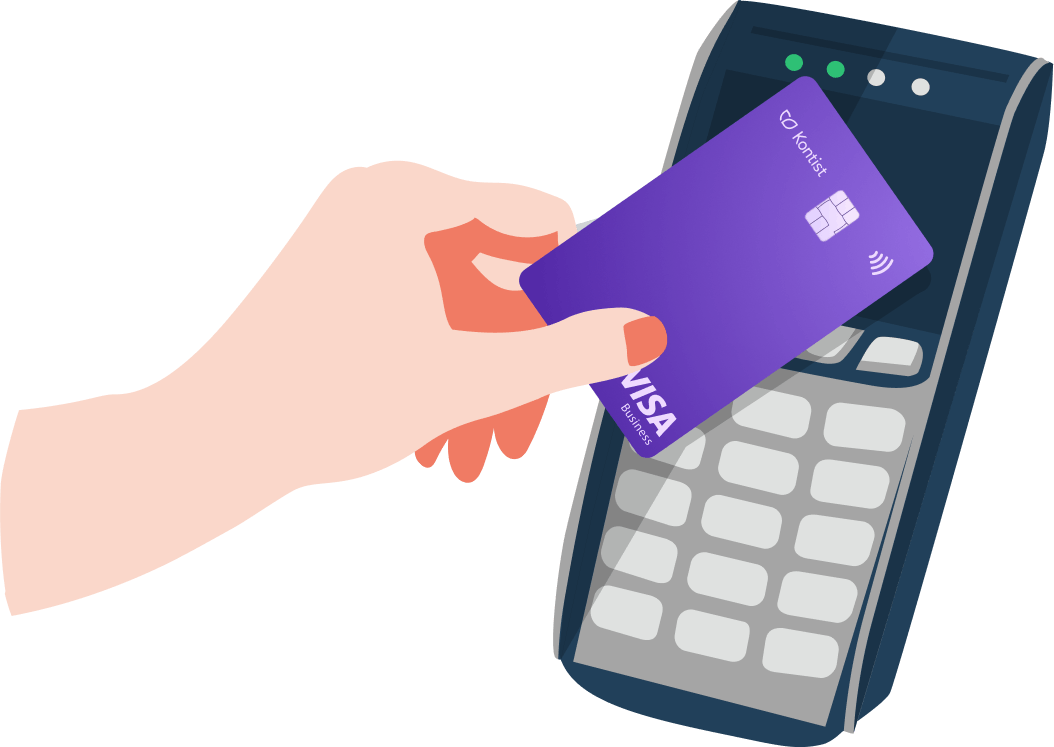 The new Visa Card offers everything you need as a self-employed person with regard to modern payment systems: 
- you will receive a physical and a virtual card
- Your card can be blocked at any time via the Kontist app
- The limits for cash withdrawals (previously a maximum of 1,500 euros per day and 4,000 euros per month, now: 3,000 euros per day and 10,000 euros per month) and payments can be adjusted by you
- Google Pay for the first time: Pay by smartphone in stores or online
The new Visa Card enables you, among other things, to make contactless payments very easily using NFC or Google Pay. In this way, you avoid touching touchpads and card readers - which is a great hygiene advantage, not only in times of rampant viruses. 
In addition, if your physical card is lost or damaged, you no longer have to contact customer service, you can simply deal with these problems in the app. You can also continue to use the virtual card for contactless payments. 
This gives you a debit card that can do everything that is important for modern payments worldwide. With more than 1.6 million ATMs worldwide that accept Visa and nearly 50 million acceptance points, withdrawing and paying shouldn't be a problem. Google Pay also expands these possibilities. As a self-employed person, you certainly don't like being restricted.
That's why we have a card for you that is gladly accepted all over the world. With the Kontist Visa Business Debit Card you can pay almost anywhere in Germany and beyond. Of course, also contactless and on the Internet. With the Kontist Visa Business Debit Card you can easily keep track of your business expenses:
Card payments are withdrawn directly from your Kontist account and confirmed in real time by a push message.

You can only spend as much money as is in your account - this also avoids painful interest on unplanned loans.

Daily, weekly and monthly limits help you keep your expenses in check.

The business card helps you to separate private and business costs clearly.
At the end of the day, we always wanted Kontist to be making the lives of freelancers and the self-employed easier. As you can tell from the history of Visa, they too have been doing this for businesses and consumers alike. We are really thrilled about our partnership with them and we hope you are as well!